ServiceM8 Consultancy
Job management software that's perfect for independent businesses
What is ServiceM8?
ServiceM8 is award-winning job management software that's been designed specifically for trades & service businesses.
Whether you're an electrician, a carpenter, wedding photographer, cake-maker, or window cleaner, ServiceM8 allows you to manage leads, turn them into customers, schedule appointments, send invoices and gather feedback – and that's just for starters!
Available online or with the bespoke iPhone / iPad app, ServiceM8 enables you to gain an overview of your business, wherever you are.
You can integrate ServiceM8 with your accounting package to simplify your invoicing, use it with Stripe to collect payments in person, online or over the phone and connect it to MailChimp to manage your next email campaign.  Truly versatile, this exception job management system  will shave hours off your admin time every day.
Show me how I can…
Get paid faster
Create & email invoices as soon as the job's complete.
Take credit / debit card payments in person, online or over the phone.
Send partial invoices and take part payments.
Look more professional
Create professional quotes and invoices in seconds. Print, email, SMS or even post* to your clients while on site.
Tell clients you're on the way – text them to notify them that you're on-approach to the job, with an estimated time of arrival.
Ensure consistent professional communication with your clients from everyone in your business with professional email & text message templates.
Automatic job reminders alert staff before scheduled bookings, including the estimated travel time to site so that they never forget an appointment again.
With turn-by-turn navigation on your iPhone or iPad, you'll never get lost on the way to a job.
Never lose details – with all client and job information stored in one location from the first call, you'll never lose client or job details again.
Provide better customer service
Send appointment confirmations & reminders via email or text message.
Collect and display customer feedback.
Tell clients you're on the way with automated notifications.
Be more efficient
Link ServiceM8 with Xero, MYOB & Quickbooks Online accounting packages.
Send push notifications & text messages to staff from the office.
Choose from ready-made invoice templates or create your own.
Easily allocate jobs to staff members using drag-n-drop. Staff will be notified instantly.
See where your staff are in real-time so that you can dispatch the closest staff member to urgent jobs.
Use customisable job queues to manage jobs awaiting further action but not yet scheduled to a staff member.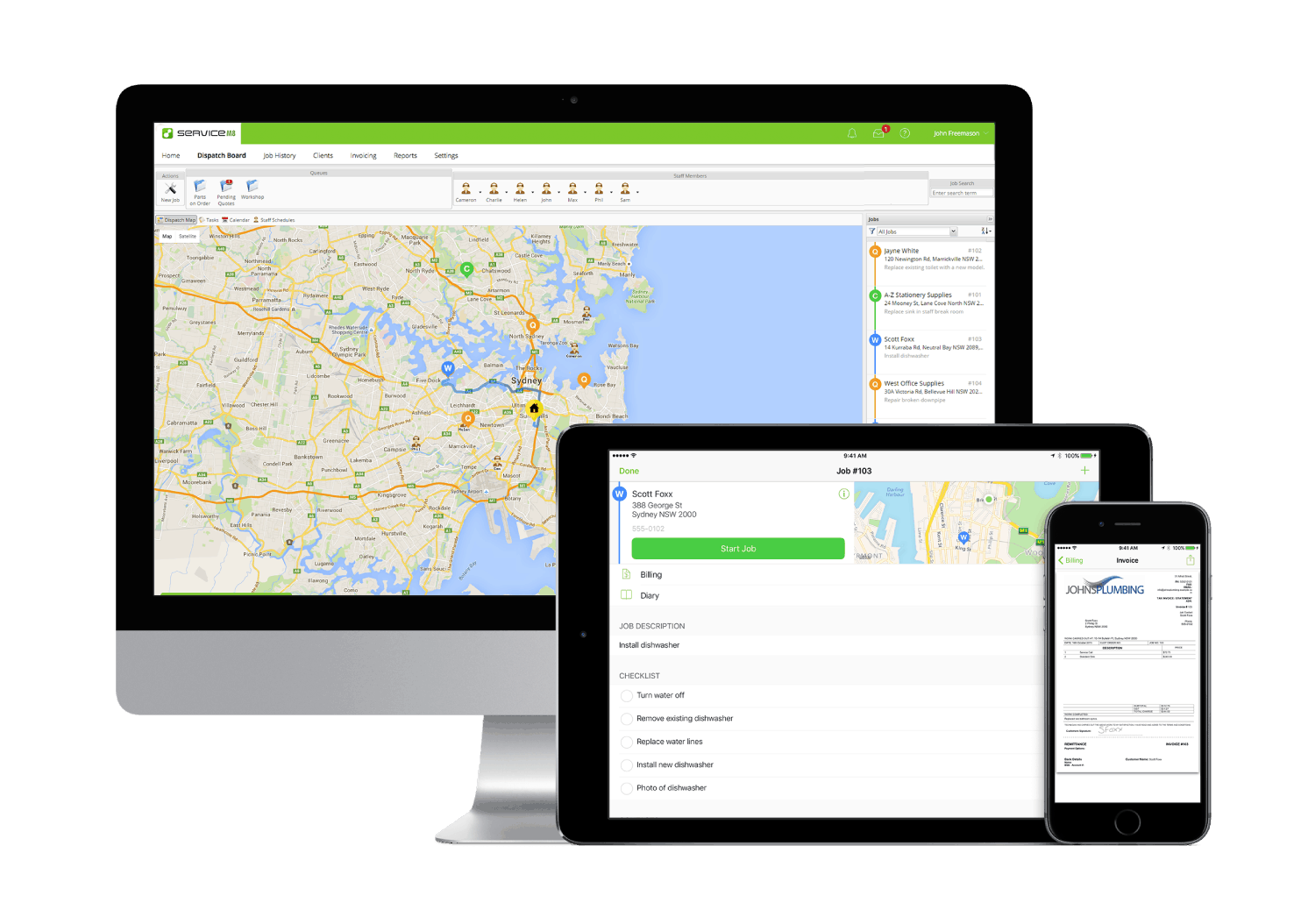 Try it for FREE
Sign up for an account and try it out for FREE – no credit card details required.
ServiceM8 stays completely free until you start booking more than 20 jobs a month.  You then only pay for the 21st job onwards with an easy-to-understand per-job charge of just 34p (50 US cents). There are no monthly subscription fees – you only pay for the jobs and add-ons you use.  That means that if you book 40 jobs per month then you pay just £6.80!
Interested? Visit ServiceM8 and click on 'Free trial' in the main menu.
Not got time to set everything up?
I offer ServiceM8 setup and implementation services, custom templates, forms and training.
I've been living and breathing ServiceM8 for over 3 years as I use it to manage our plumbing business, with great success.
You can be sure that my knowledge is not just theoretical, it's hands-on.
I'll show you how you can create a clear set of processes to streamline your business and get paid on time, every time.
My experience with Ms. Whicher has reflected a person of integrity, high intelligence, high motivation, good insight, and a high level of caring toward others.
Bruce McNellie
"Having worked with Hazel, I've experienced first hand her exceptional work ethic, her attention to detail and knowledge of everything online. Quick to respond and unfailingly positive, working with Hazel was always a pleasure."
Ileana Lund
Hazel is very achievement-driven and takes great pride in completing initiatives and delivering results. She will work tirelessly to do this.
David Kohn
Latest from the blog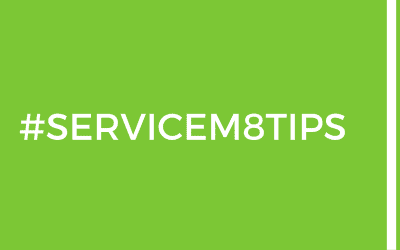 Perhaps you've updated your email address, or you want to hand the account over to someone else, this wizard will take you through the steps needed to change your account-holding email address Just click on this link:... read more
Running your business has never been so easy!
Get in touch to find out how I can help you streamline your business today
Contact Me