I empower business owners like you to build a more efficient & profitable business
The benefits ServiceM8 has brought to my business is quick and efficient service - such as booking in works and invoicing, perfect for a company that has engineers.
Working with Hazel is amazing, she is always willing to help and go that extra mile for people. Humble and a very nice individual to work with.
William Ha
My ServiceM8 Signup Bonuses
When you sign up through me, you'll get a 21 day trial (that's a week longer than the normal trial) and a free 30 minute consultation call with me.
I'll create your account for you and I'll be your ServiceM8 support partner. Please note, I may receive a small commission if you sign up with me, but that's how I'm able to offer you more 🙂
Once you've filled out the form, you'll be redirected to my calendar so that you can choose a convenient date and time for your free consultation call.
Welcome to ServiceM8!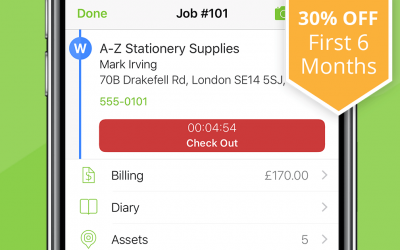 ServiceM8's running a New Year special for new signups — 30% off for 6 months! If you've been sitting on the fence, then it's time to get off 🙂 You could save up to £484 over the next 12 months if you sign up for ServiceM8 today. To redeem the offer,...
Since May 2018, it's been possible to search facebook for how much the conservatives have spent on their facebook advertising campaigns, or the topics of labour's advertising posts. More recently, facebook have opened up their ad library to show any active...
HAPPY BLACK FRIDAY!
Welcome to Black Friday 2019. One of the biggest shopping days of the year, especially for those in search of a bargain.
Gallery
Here are some of the forms, invoices and quotes I've created for my customers. These are ServiceM8 ready and custom built.