I'm a ServiceM8 Expert…
(and I want to make your life easier!)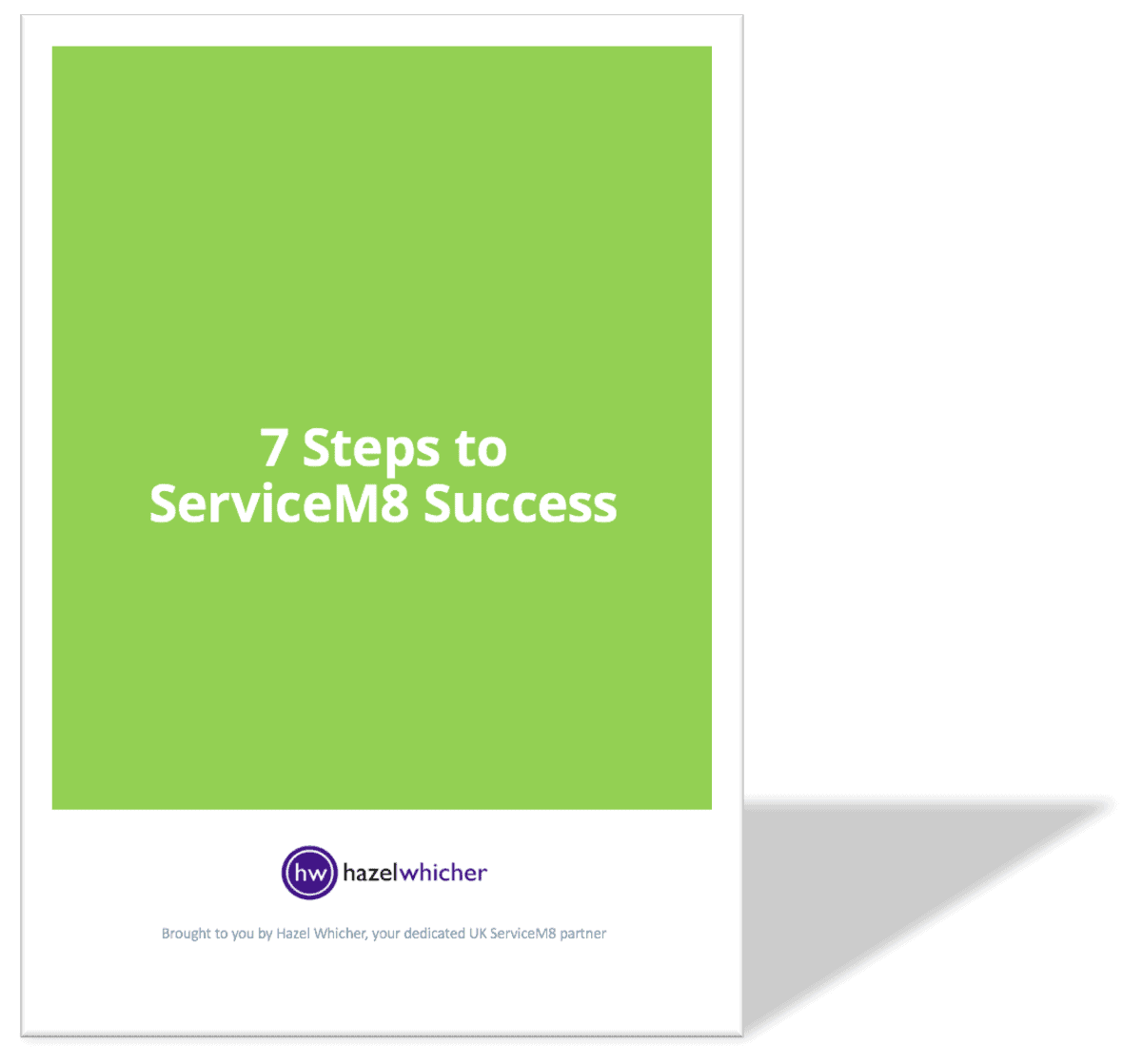 A link to download your e-book will be sent to you via email. You will also be subscribed to my mailing list.
Free ServiceM8 eBook:
"7 Steps to ServiceM8 Success"
Get actionable advice to improve your business, whether you're new to ServiceM8 or have been using it for years.
Fill in your details below and I'll send you your free eBook immediately.
ServiceM8 has transformed my business.
Being able to instantly quote and invoice as need as well as being able to see if your clients have seen your quote, has halved the time I spend doing paperwork!
Hazel's understanding of what I need in my business as a tradesman and her vast knowledge of ServiceM8 made the whole process of incorporating ServiceM8 into the business easy and hassle-free.
Neil Cowley
Are you a tradesperson? Run a mobile service business? Or perhaps you want to start your own shop?  I can help with the setup and training for various online software services including ServiceM8, Shopify & WordPress.
Whether you run an online web store or have a website that's focused on lead generation, I can help.  I use a combination of a tools & methods to get into your visitors heads & work out how to make improvements.
Are you struggling to get visitors to your website? Looking for a fresh pair of eyes? I'll take a look at your site from all angles and make clear and easy to follow recommendations.
Gallery
Here are some of the forms, invoices and quotes I've created for my customers. These are ServiceM8 ready and custom built.
TIP: the Knowledge Add-on lets you record videos & create articles in ServiceM8, which can be searched & viewed in the field. Great for accessing know-how, procedures & important info when you need it! TIP: do you know about Global Search in...
Introducing... the ServiceM8 form store! Login to your ServiceM8 account online, go to settings > forms > form store You can use search terms to filter the forms... Over to youHave you used the form store yet? Which forms have you bought?Are there...
Clever people like the work I do…
Hazel is very achievement-driven and takes great pride in completing initiatives and delivering results. She will work tirelessly to do this.
David Kohn
Hazel was a pleasure to work with. Very knowledgeable, always responsive & able to turn things around quickly. Her skilled handling of projects made for efficient & successful outcomes for everyone involved.
Nick Stone
My experience with Ms. Whicher has reflected a person of integrity, high intelligence, high motivation, good insight, and a high level of caring toward others.
Bruce McNellie
Experience
I have over 10 years' experience in online retail in both Online Marketing Manager and eCommerce Manager capacities.
ServiceM8 Certified Partner
I'm ServiceM8 Certified & I have over 5 years' hands-on experience with this scalable & intuitive job management system.