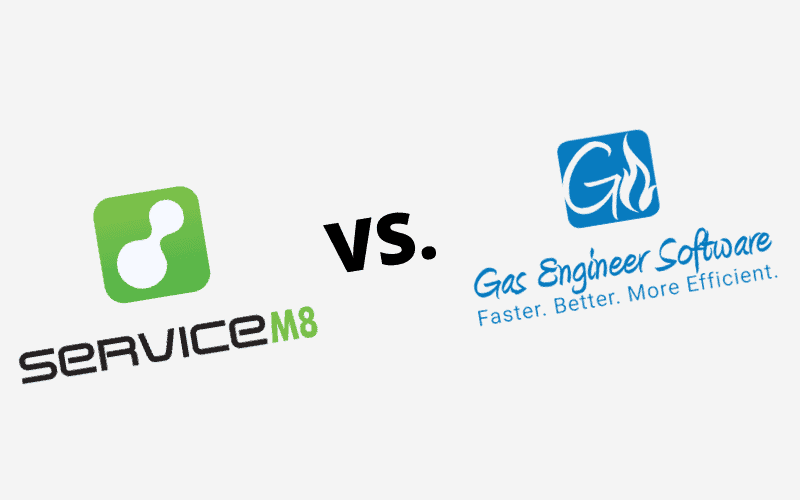 While ServiceM8 aims to serve all kinds of industries and audiences, GES is very clear on who it is aimed at: UK-based gas engineers.
ServiceM8 specifies plumbers, electricians, tree surgeons, cleaners, builders, gardeners, mobile hairdressers and many more small business owners as examples.
ServiceM8 has taken the bold stand of only making its app available on Apple devices, reducing the possibility of an Android-based business joining as a customer. Secondly, ServiceM8 have a very clear idea of how businesses should run, in order to ensure that the finished product remains clear, concise and focused on ensuring the businesses using it look after their customers first.
Want to know which is better for your business?
Find out below.
Please note, I have more experience using ServiceM8 compared to GES, but have made every attempt to present a balanced and fair overview of how these two tools compare.
Comparison
Gas Engineer Software (GES)
ServiceM8
What I Like
Gas forms included, UK phone support, built in gas rate calculator. It feels like it's made for gas engineers, with an 'appliance first' approach.
Has a stronger sense of status and workflow to job creation. Allows payment to be taken in person and via email / text. Play nicely with a lot of other tools.
Could Be Better
No / incomplete xero integration. Can't create any additional forms or records or customise styles unless you're a team of 50+ employees.
Not aimed specifically at Gas Engineers, so needs a bit more customisation to get started if you run a heating company. No gas forms included.
Key Features
The list of features includes – Create Unlimited Gas, Oil, Domestic, Non-Domestic Certificates and Records / Create Unlimited Job Sheets, Estimates, Quotes and Invoices / Android and iOS Apps (works online and offline) / Web Portal for Office Use
Built-in Calendar
Automatic Service, Quote, Invoice Reminders
Invoicing and Payment Tracking
Anton Gas Analyser Integration
Company KPI Dashboard
The list of features includes – Drag and drop scheduling / job management / checklists and tasks / photos and videos / signature capture / maps / integrated navigation / job reminders / booking confirmations / booking suggestions / easy invoicing and quoting / online quote acceptance / customisable quote, invoice, email, sms and form templates / live customer statements / mobile and online invoice payment / on the way messages / two way sms / offline access / photo markup / asset management / online booking / knowledge sharing / integrated VOIP phone system (costs extra) / lots of add ons
Pricing
From £15 per user per month – £20 per user per month for accounting integrations.  Free 30 day trial available. All key gas forms come included in the price as standard.
From £8 / month for unlimited staff (15 jobs per month (<1 per working day) to £269 per month for 1500+ jobs per month (up to 75 jobs per working day.) Free 14 day trial available. No gas forms included out of the box – these must be purchased separately.
Support
Company provide UK Chat, Email and Telephone Support during UK office hours. Knowledge Base. Video Tutorials.
Company provide online chat & email support. Phone support can be provided by ServiceM8 Partners for an extra cost. Knowledge Base. Video Tutorials.
Ease of Use
Gas Record creation is easy, but I found it hard to search for 'jobs'
The app is intuitive, but record (form) creation takes a little longer.
Who is it for?
Small UK-based heating companies – specifically Gas Engineers.
Small – medium sized field service companies across a range of industries.
ServiceM8 vs. Gas Engineer Software: An overview
Who is ServiceM8 for?
ServiceM8 is aimed at small to medium sized businesses who visit their customers. It's not industry-specific, so can cater to a range of businesses.
Who is GES for?
UK based Gas Engineers. Pure and Simple.
ServiceM8 vs. Gas Engineer Software: Features
What ServiceM8 offers
ServiceM8 centres around the concept of a job, providing an overview of customer details, pricing and events all on a single job 'card'. This makes it easy to make sure that each 'job' (piece of work) is moved through from quote to completion with whatever forms, records, quotes and invoice documents are required.
ServiceM8 doesn't have the focus on 'appliances' in the same way that GES does, which means that it's a little more long-winded to see what appliances the customer owns, complete gas records and send them over to customer, compared to GES.
It also doesn't have any hardware integrations to match the Anton gas analyser integration that GES has developed.
Now for the good news: ServiceM8 plays very well with other software – firstly, you can take payment using Stripe directly through their iOS app, it links with the big cloud accounting programmes including Xero, Quickbooks and MYOB. It has a native mailchimp integration. ServiceM8 also allows you to manage timesheets easily with a well-developed Deputy integration. Plus for any other software connections, ServiceM8 have a dedicated zapier connection to allow you to do all sorts of other things.
You can also take care of a lot of automation within ServiceM8 itself –
booking reminders
quote follow ups
invoice / payment chasers
feedback and review requests
service reminders
other timed reminders
What GES offers
GES focuses on speed and ease of use of it's appliance record creation.
When you complete a gas record, the email editor automatically appears with a templated email to easily send to your customer.
It saves the appliance information automatically (and out of the box) (along with customer details and address) which means that when you go to create a new record for that customer, you can select an appliance that you've created in the past.
Though this is perfectly possible with ServiceM8 using their asset management add-on, it requires some setup and additional learning to get it in place.
GES form creation is quick and simple, mainly because you can see multiple questions on one screen, whereas ServiceM8 will take you through the form one question at a time.
Though GES comes with the key gas safe record templates and corresponding, customisable, email templates, it's limited in terms of how much you can actually do to customise those templates.
I couldn't see a way to add new email templates to suit additional situations, I also couldn't find a way to customise, edit or add new types of records – you appear to be limited to the records and templates that come with the software. This option appears to only be available to heating companies with more than 50 employees (that's a GES monthly spend of £750 – £1000). Given that the UK Plumbing & Heating industry is dominated by a large number of micro businesses, this option is unlikely to be taken up by the vast majority of teams that use GES.
Results: GES wins for UK based gas engineers just starting out…
I think that if you're a UK-based Gas Safe registered engineer, with just you or a very small team, and you're looking to get started quickly with issuing gas safe compliant records, then GES is a great tool to start with.
However, if you're looking to expand your team, the per-user pricing of GES is going to get expensive very quickly.
I also felt that it lacked the ability to really template and customise the software to suit a variety of situations as your business grows.
ServiceM8 vs. Gas Engineer Software: Support
Some people prefer solving problems themselves, while others want to chat (or talk) to a customer service agent. It's important to factor in support preferences when selecting your job management software, as it's going to be the tool at the centre of your business operations.
What ServiceM8 offers
ServiceM8 has pretty good support options, which you can access through a chat button on their website homepage. Its live chat and email support is available to customers on all plans, 24/7.
ServiceM8's Knowledge Base contains lots of detailed articles that can help you solve your issues yourself. There's also a dedicated Video Tutorials section.
If the online chat, email or self-service options don't suit, you can reach out to ServiceM8's network of 'Partners'.
Partners are independent individuals and business who are trained and certified in the use of ServiceM8. Partners charge their own set of rates, so you'll need to explore this before engaging their services, but they should offer you some kind of initial 'discovery' call for free.
What GES offers
GES provide online chat, email and telephone support from the UK during UK office hours.
On their website, they state "We are available Monday-Friday, 9am to 5pm via web chat, phone, and email; our average response time is 20 minutes, and if we miss you for any reason we'll actively make the effort to follow up as soon as possible."
They also have a range of videos covering the basics over on YouTube.
Results: ServiceM8 are more available, but not if you want to actually speak to them
GES make it easier for you to contact their support team and speak to a human, as long as you're based in the UK.
ServiceM8 do better if you're happy with online chat or email support as they're available 24/7.
ServiceM8 vs.Gas Engineer Software: Ease of use
Being able to find the features you want right away is key. That's why it's important that the software guides you towards the right actions rather than leaving you to fend for yourself.
What ServiceM8 offers
When you first start using ServiceM8, the software displays a checklist to guide you through certain tasks.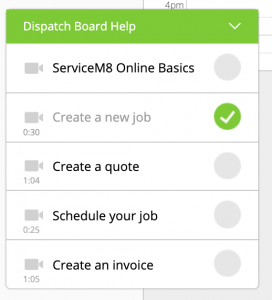 ServiceM8 provides demo videos of each feature when you first use them, to help you understand what they do and how you can get the most out of the software.
Many of the more advanced features are specifically hidden from view in order not to overwhelm you at the beginning. This can potentially lead customers to not realise what the software is fully capable of.
What GES offers
Gas Engineer Software prides itself making its users faster and more efficient. This is certainly true when it comes to gas record creation, but I found that the 'syncing' process between the app and the cloud was in-your-face, slow and distracting.
There's no onboarding process that I could see, but the process of creating a new gas record, quote or invoice seemed pretty straightforward.
Results: ServiceM8 wins
ServiceM8 has short onboarding videos to take you through the key tasks to get to grips with the basics, along with a sample job that shows what you can add and capture on each job.
ServiceM8 vs.Gas Engineer Software: Security & Backup
Though you would expect all software companies to have this covered, it's important to know just how far each have gone to secure and protect their customer's data.
What ServiceM8 offers
Servicem8 is hosted on Amazon web servers. They have bank grade level security and two factor authentication options.
Servicem8 accounts are backed up every five minutes to secure ServiceM8 servers in multiple locations around the world.
You can also make daily backups of your account, which can be downloaded as a Zip file.
What GES offers
GES can restore account data to any second over the last two weeks and to any day in the last four years.
The backups are encrypted (with bank grade level encryption) and are stored in three different locations and with two different providers.
They make it easy to export your data from within the web portal. They can also export all your certificates, records, estimates, quotes and invoices.
ServiceM8 vs. Gas Engineer Software: Pricing
Per-user pricing or per-job pricing. That's what it comes down to.
GES price per user. All plans are month-to-month with no contracts, no setup fees, and no hidden charges. You can cancel at any time.
ServiceM8 charge on a per-job basis, so you buy a plan that allows for a certain number of jobs to be created per month. The idea being that the cost is related to the amount of work (jobs) you're doing, so that the cost expands proportionally in line with your revenue. They also work on a rolling month-to-month basis, with no long term contracts and no hidden charges.
What ServiceM8 offers
ServiceM8 offers a 14-day trial to help you decide if it's the right software for you.
ServiceM8 plans start from £8 – their lite plan. This allows for up to 15 jobs to be created per month and can be a good option if you want to try the software out for longer than the trial allows.
Their different plans allow an increasing number of jobs per month, but the plans also unlock different features. Anyone moving from a certificate-creation app like GES, would need to opt for ServiceM8's Growing Plan at £59/month in order to use the ServiceM8 Forms add-on. Ready made gas and plumbing forms can then be purchased from the ServiceM8 form store or some partners (you can see the ones I've made for our heating business here). Bear in mind that these forms are an additional cost.
What GES offers
GES offers a longer trial period – 30 days compared to ServiceM8's 14 days.
Their base plan is £15 per user, per month, but if you want to connect GES to your accounting package, then you'll pay £20 per user per month. This means that if you have a team of 3 engineers and 1 x admin, your GES subscription will cost £80 / month compared to the equivalent plan of £59 / month for ServiceM8 (assuming you do up to 150 jobs per month).
GES provides all of the key Gas (and some Oil) forms out of the box, so there's no additional cost here.
Results: It's a draw
The pricing plan that suits you best depends on how your team is structured, how many admin users you need to support you and how much work you're getting through each month.
If you're a one-person-band and you're churning through gas safety certificates like it's going out of fashion, then GES is probably the better choice for you as the forms are available as part of the price.  However, as you grow and want support with the admin side, along with more automation options, the ServiceM8 plans are going to look more and more attractive.
ServiceM8 vs. Gas Engineer Software: Integration with other software
Playing nicely with other systems can be more and more important as your company grows.
What ServiceM8 offers
ServiceM8 offer native integrations to many different software tools, which helps data flow seamlessly between the different software and can improve collaboration between departments. Here is a list of native integrations with popular software:
Stripe
Deputy
Mailchimp
Xero
Quickbooks
Office 365
Wink Reports
Zapier
ServiceM8 also provides an API, along with reference documentation available in a dedicated developer website, to enable you to build integrations with other software.
What GES offers
GES offers a smaller number of native software integrations, but they do have a hardware integration –
Quickbooks
SAGE
Anton Gas Analyser integration
The lack of payment integration is disappointing, plus they have previously advertised a xero connection, and although this is mentioned in some of the help documentation, it's not mentioned on the homepage or sales pages of the GES website.
There's no publicly accessible API and no Zapier integration, so the ability to customise, extend or automate workflows is severely limited.
Results: ServiceM8 wins
GES is missing quite a few integrations with commonly-used software with no option to build your own. ServiceM8 allows staff to take payment on the app, without the need for an additional card device, plus payment links can be sent via text message and email, making the all important payment part of the process super easy.
How They Compare: ServiceM8 vs. GES
| | | |
| --- | --- | --- |
| Property | GAS ENGINEER SOFTWARE | SERVICEM8 |
| Free plan | No | No |
| Free trial | Yes – 30 days | Yes – 14 days |
| Onboarding tips & videos in software | No | Yes |
| Community help portal | Yes | Yes |
| Payment Integration | No | Yes |
| App Platform | Apple & Android | Apple Only |
Conclusion
So, looking at all of the different aspects, the software that comes out on top is going to be based on your team structure, your workload and how much flexibility you like to have.
If you're a lone UK-based Gas Engineer, then GES is probably the best tool for you, especially at the beginning of your business journey. It allows for fast record, quote and invoice creation, but app usage is a little on the slow side due to a very obvious syncing process.
As your company grows, ServiceM8 becomes more attractive as it provides the ability to take payment easily, more flexible email and sms templating, automation options, a good selection of integrations and a price plan that doesn't penalise you for bringing on admin support.
ServiceM8 has a lot of features and potential to allow for much more than the average job management system, for a low price.
ServiceM8 form creation can feel slower and a little more clunky to complete than GES, which makes it slightly more time-consuming to create gas records.
The calendar is the central focus, which makes it easy to see who's going where and when, and you can view the calendar in different ways depending on what you need to know.
ServiceM8's apple-only app development stance makes it more agile and focused on user experience, but can be frustrating for those teams with mostly android phones and tablets.
Want to find out more?
Try ServiceM8 – Sign up for your FREE 14 day ServiceM8 trial here
(If you go on to subscribe, you'll get 15% off your first 6 months, thanks to me! Plus I'll get a kickback from ServiceM8 as a thank you 🙂 )
Do you agree or disagree with any of the points I've made?
Tell me your thoughts in the comments below!