Do you have an actual price list for your service business? 
Using a properly structured price list helps to improve the buying experience for your clients. But did you know it could also help to unlock further efficiencies in your business? 
As a service business, you provide a combination of services and physical products. Having a structured price list shows prospective customers exactly what your business offers and how much it will cost them. 
For you, a structured price list will improve reporting opportunities, which means you'll be able to make better business decisions. 
Want to know more? Read on to find out why your business needs a well-structured price list and how to create one that will work for you. 
What makes a good price list?
An effective price list includes the details of every service (or set of services) offered by your business. It also lists the physical parts and products you sell. Each product or service must be assigned with an identification number, known as a stock-keeping unit (SKU). 
Giving every product or service a SKU means you can easily run reports to understand how your business is performing. It doesn't matter if you're not selling tangible products – giving your services a SKU simply allows you to treat them as being tangible for reporting purposes. 
Once you've finished codifying how your services are priced up, you can start building job templates or creating quoting tools and questionnaires with ServiceM8. Doing this means you can delegate responsibility for pricing up jobs to other people in your team – so it goes from being something that happens in your head to something everyone can help with. 
What is a SKU, and why do they matter?
A SKU is a stock keeping unit or product code. A SKU can be used to search and identify stock on hand from lists, invoices or order forms. For ServiceM8 users, the SKU is known as an Item Code. 
Essentially, a SKU is a summary of the full product details. They make it easier for you and others to search for, find and reference products using invoices, lists and order forms. Each variation of a product should be allocated with its own unique SKU. 
SKUs offer the following benefits: 
Easy to add to quotes, invoices and work orders

Helpful when carrying out a stocktake of physical products

It can be converted into a barcode, which can be printed or scanned

Allows you to add further information about the product, not just its name. For example, you can include the category of work the product falls under.

For physical products, the code can include information on where the item is stored, for example, in the warehouse or van. 

Helps to highlight which categories of work bring in the most jobs or profitable assignments. This information can be used to help shape your recruitment strategy. 

Allows you to identify the most and least profitable products and services
What insight can you gather?
A professional price list will help your business to reach its full potential. 
Think about what you want to learn from the data you collect. 
To get started, answer the following questions:
Do you need to know where stock is stored?

Do you have engineers who need different qualifications to perform certain services?

Does your business offer many different types of service? 

Does your business offer services that require very different types of kit?
Did you answer 'no' to some of the questions? No problem. If you're running a business with two vans or less, you probably don't need to know exactly where each physical part is. After all, you could end up spending more time tracking and stock taking than generating income. 
In most cases, a SKU could include information around: 
Service Type – For example, heating vs plumbing i.e – HEAT-BOILER-SERVICE-001or PLUMB-FITTINGS-001
Part Type – What type of product is this? For example – BOILER-ATAG-IC38
Brand – If you offer multiple brands of a particular product, it's helpful to highlight the brand within the SKU. Identifying best-sellers may help you to negotiate a discount, kickback or deal with the manufacturer. For example, if your business installs 1000 Worcester Bosch boilers per year, it makes sense for you to be on their preferred installer list. You can use your sales reporting data to make a business case on why the manufacturer should offer your business preferential treatment.  i.e. BOILER-WORC-GSTR-25KW or BOILER-ATAG-I38C
Location – For example, van or warehouse. i.e. VAN-FITTINGS-PLUMB or WH-FITTINGS-PLUMB
Training
ServiceM8 allows you to tag items on your price list with 'knowledge articles'. These form a central wikis, which detail how you run your business. They might include training and information on a particular service, the parts and tools needed or what the upsells and cross-sells should be for that service. 
Considering this as you create your price list allows you to separate your services accordingly. Your team will then be able to access relevant information when a particular part or code is added to a job. 
Examples for a plumbing business
Having managed a successful plumbing business for more than a decade, I know a thing or two about setting up price lists. The outline below details my approach to building a price list. 
Labour Items
Each labour item contains the letters 'LAB' in the item code and 'Labour' in the item name. We use ServiceM8, so including Labour in the Item Name helps the system to identify which items need to be grouped together under the labour subtotal. It then calculates the material subtotal by assuming that anything not coded as labour is a material. 
Service Type
We indicate whether an item relates to plumbing or heating by using a 'WAT' prefix for plumbing and 'GAS' for heating. This enables us to see the mix of categories and highlights what's keeping us busy and what's bringing in the most revenue. We use this insight to plan efficient recruitment, as hiring a heating engineer is very different to hiring an apprentice or other individual without gas qualifications. 
Product Type
Boiler-related items include the prefix 'BOI', helping us to see what's being used and pull boiler installation quotes together more easily.  Pumps have codes like PUMP-HOUSE-001, Taps are coded up as TAP-MIXER-001 – you get the idea.
Fixed Price Services
All of our fixed price services are listed separately. Examples of these include things like boiler services, gas safety certificates (landlord safety records) etc
It's possible to pull up reports very quickly, for example, I could tell you how many boiler services we have carried out each year in under 30 seconds by running a report that shows the quantity of GAS-SERVICE-001 sold. 
Code Structure
The different parts of the SKU (Item Code) are separated with dashes or hyphens (-). This makes it easy to separate the code into its respective sections when downloading the data into Excel. It is also possible to target everything before the first dash or everything between the first and second dashes to pull out different parts of the code. 
Where to start
Common units of labour
Open a blank spreadsheet in your preferred program, whether that's Excel, Google Sheets or Numbers. 
List out common units of time, for example, one hour, one day, a weekend, out-of-hours during the week, out-of-hours at the weekend. While it's not necessary to charge in units of time, this is often the easiest place to start when planning your pricing. 

It's also the most common method of charging for other businesses in the service, trade and construction industry. That means it offers an easy reference point – a quick call to a competitor is all it takes to find out what others are charging. 
If your industry charges based on area, you could start with that. For example, a lawn cutting company might charge according to the size in square metres of the garden – so the unit would be square metres rather than hours. Efficiencies of scale might then be achieved every 100 metres (compared to a day in the time equivalent). 
Fixed Price Services
After deciding on units of time, think about the fixed price services your business offers. 
For a plumbing and heating company, this includes things like Boiler Services and Gas Safety Certificates.
Check your company website and those for your competitors to see what tends to be offered at a fixed price. At the same time, make a list of related services you could upsell and cross-sell.
Work Completed
Collecting information from work you've completed in the past is a useful way to come up with new ideas for the future. 
If you're a ServiceM8 user, open the Advanced Reporting Pack add-on to download the entire job list. You can open the job list in Excel and copy the entire job description column into a word cloud generator. It's an easy, visual way to understand the most popular products and services offered by your business. Create the word cloud, remove any filler words like 'and' or 'the' and run it again and you'll get something that looks like this –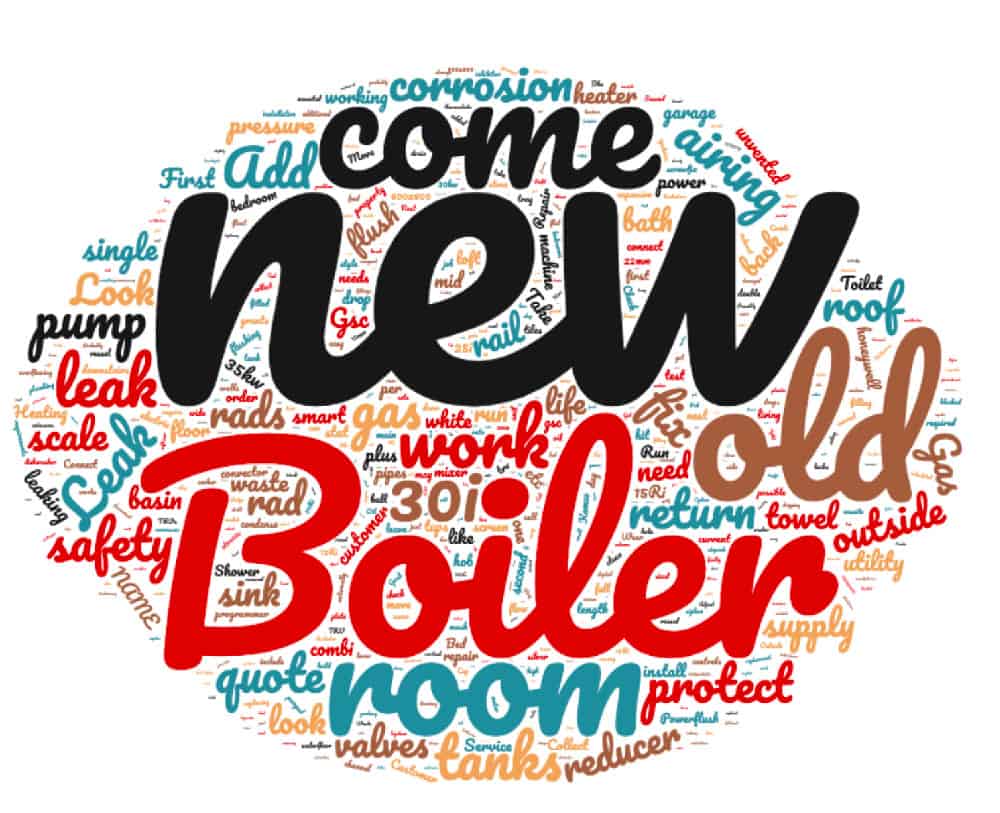 When looking at the word cloud, the most common services and parts will be in the largest font. The bigger the word, the more often you've typed it into your job descriptions!
Having this information at your fingertips means you'll know exactly where to start in terms of job templates and pricing. 
How to report on your SKUs
Materials Usage report in ServiceM8 
If you're already using ServiceM8, you're in good company. Hundreds of thousands of businesses around the world are already enjoying the benefits, including the Materials Usage Report function.
This report highlights the most-used materials and services within a specified date range. It can be broken down according to staff members and job categories and can be exported in .csv (spreadsheet) format. 
To find it, log into your ServiceM8 account at servicem8.com and then go to  Reports > Jobs > Materials Usage

Advanced Reporting Pack
Switch on the ServiceM8 advanced reporting pack to download all of your job information to Excel. You can use this information to assess your products. 
This report enables you to see which members of staff completed each job. Assuming each staff member has their own van, this report can help you to identify which items need to be restocked in each van. Generating this report weekly means you can hand out van restocking lists every Monday, so staff know exactly what they need to put back into their vans.
Wink Reporting
This powerful reporting tool takes information from a variety of software tools and combines them into a single custom report. Wink can be used to create Parts Sold Reports. You can also use it to generate restocking list reports. One of its benefits is the ability to schedule reports and receive the results via email. If you want to allocate restocking tasks to one member of staff, simply set up the system to send the reports straight to their email address. 
One team of locksmiths adopted this way of working and found it to be a simple way to gain access to an inventory plan each week. Best of all, it didn't require a great deal of input from every staff member, leaving them more time to concentrate on other important tasks. 
Ready-Made Parts Lists – Buy Now
Would your business benefit from a ready-made parts list? Help is at hand. I've created a range of ready-made parts lists, available to purchase and upload directly into your ServiceM8 account. Not using ServiceM8 yet? You can still purchase and use my Excel parts list with your own software. 
Bespoke Price Lists – Get in Touch
Looking for a bespoke price list solution? No problem. Get in touch to provide me with your product information and list of services. Let me know what you want to learn from your data, and I'll work with you to create a personalised price list for your business.