ServiceM8 on Autopilot
How to get more done in less time
Do any of these sound familiar?
Have you heard lots of people talking about automation, but don't really know what it means?
You've set up booking reminders, but that's as far as your business automation goes.
You feel awkward when asking for reviews, so you generally 'forget'
You hate the confrontation of a conversation about late payment, but you know that you really need to get around to it at some point.
You want to make your business as efficient as you possibly can, during this strange lockdown situation, so that you can hit the ground running when everything gets back to normal.
What is ServiceM8 on Autopilot?
This is a webinar-format training.
The live training took place at 10am BST on Friday 1st May and the recording and resources are now available for you to work through at your leisure.
You'll be included on future updates and improvements to the course for up to 6 months.
I'll covered a variety of automation types and techniques and there were Q&As throughout.
I'm talking about setting and forgetting as many things as possible in your business. Think automated emails, text messages, data transfer, process, notifications etc Having ServiceM8 set up so that it sends booking reminders, quotes follow-ups, multi-stage payment chasers, email marketing, notifications etc going out automatically.
You set them up and then let ServiceM8 do its thing ????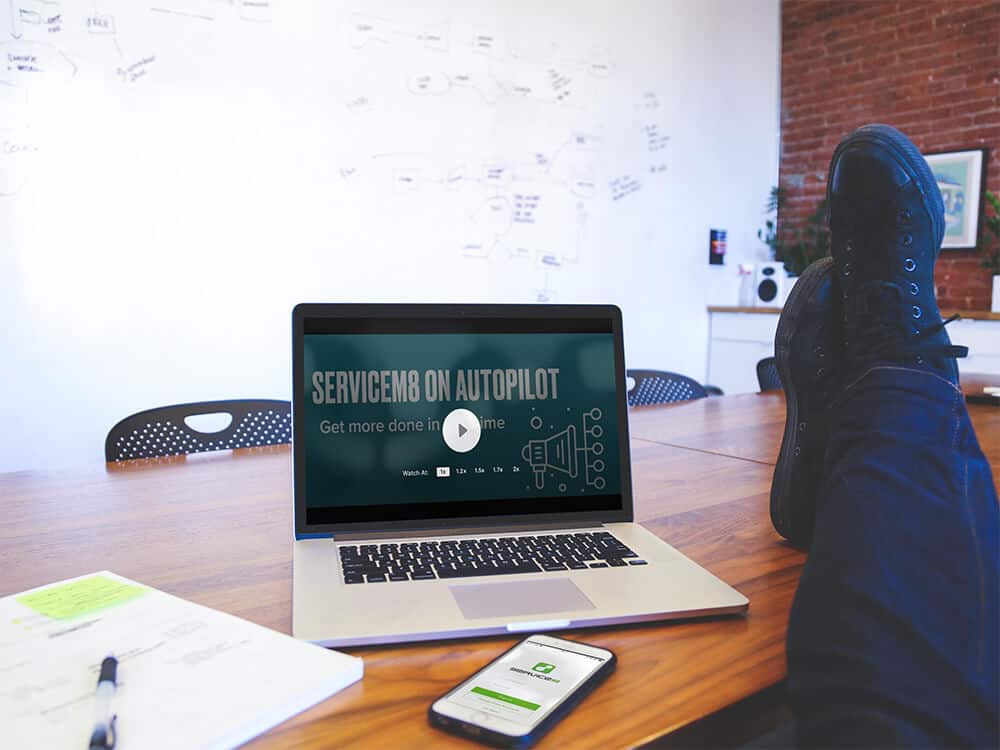 Since using automation in our plumbing business, I've automated 2589 tasks, which equates to 43 hours saved if we assume they would take a minute each ????
Here's the feedback from the live training
What did you like most about the training?
Opened up a new world of possibilities to improve our business and set us aside from our competitors.
What was your biggest takeaway or a-ha?
Email collaboration!
What would you say to someone considering buying this course?
Easily pays for itself.
What did you like most about the training?
Hazel explained everything in depth and answered all questions as we went which helped as well.
What was your biggest takeaway or a-ha?
I actually now have an understanding of how ServiceM8 works and can use it to its best abilities to help our business going forward
What would you say to someone considering buying this course?
It works well for our business so hopefully it could work well for theirs too!
What did you like most about the training?
Loved the fact you were doing everything live as you were talking through it. Made it all very relatable.
What was your biggest takeaway or a-ha?
Zapier!! Wow what an amazing bit of software. Had never heard of it before but will certainly be practicing and using it in the future.
What would you say to someone considering buying this course?
Very informative and great value as always.
Here's what others have said about working with me and my teaching style generally…
Hazel has a great understanding of not only ServiceM8 but also of what we were looking to achieve from Service M8
The benefits ServiceM8 has brought to my business is quick and efficient service - such as booking in works and invoicing, perfect for a company that has engineers.
Working with Hazel is amazing, she is always willing to help and go that extra mile for people. Humble and a very nice individual to work with.
Hazel, you have helped me over the years by streamlining and improving efficiency of our systems, through Servicem8, knowing what is it that we go through as a company on a daily basis! I can never thank you enough, you are our first and only port of call when any issue or challenge arise, thank you thank you thank you!!!
Amazing customer service. Always ready to help and answer queries instantly. A pleasure to deal with and she REALLY knows her stuff!
I've never had such knowledgeable back up assistance and Hazel teaches you, patiently and thoroughly throughout. Love ServiceM8 and love Hazel!
Hazel has provided first class training, support and innovative and creative ideas to move our company forward. I cannot emphasise enough how grateful we are to have met Hazel.
Hazel has helped us with many aspects of our business including systemisation of work orders, credit control and email marketing strategies all through the use of ServiceM8. Take my word for it – your company will benefit from her knowledge.
Hazel delivered in house training to our staff and they now feel so much more confident in their use of servicem8 and how it integrates with so many other platforms.  Thanks so much Hazel!
Let's Do This!
Learn how to automate your business to save time and effort
This training is right for you if…
You feel like automation takes a whole load of planning and changes to the way you work to get it up and running.
You don't currently have any / very many business processes that are automated.
You don't like having 'awkward' conversations about requesting payment or reviews.
This training is not perfect for you if…
You're already automating a lot of your processes.
You're looking for very detailed or complex marketing funnels.
How long will this take?
The training itself will be around 90 minutes long. You can be putting automation to work in your business within 60 minutes of watching ServiceM8 on Autopilot!
What if I don't learn anything new?
I won't punish you for being awesome! If you feel like you didn't learn anything new or useful for your business, let me know within 7 days of purchase and I'll happily refund you.
Do I have lifetime access?
You have access to the course, including all future updates, for 6 months. 
If I gave you lifetime access, you probably wouldn't actually implement. And in order to get results, you have to implement ????
Going through the course itself and taking action won't take you more than a few hours.
I've got a different question
Let's Do This!
Learn how to automate your business to save time and effort